13/09/2020

Objects, sculptures, reconsidered fruit, craft and categories of life through the Solitude 1 residency, supported through Chunky Move
13/09/17
Performing in Megan Payne and Ellen Davies' work for Melbourne Fringe Festival: Demystification Baby.
"We want to feel how they make us feel they feel"
A recreation of a play outlined but never realised in Eileen Myles' 2010 novel Inferno
8pm 14-17 Sept at Testing Grounds, Southbank, Melbourne
BOOK $10 tickets with Discount Code: Baby
https://www.melbournefringe.com.au/event/demystification-baby/
08/09/17
TONIGHT- Melbourne Fashion Festival closing night smackdown.
Come celebrate the 2017 Melbourne Fashion Week that was, at the closing of the Creative Collective exhibition 'For Curious Eyes Only', with a free spectacular WWF/Fashion/contemporary performance showdown beginning at 6.30pm.
See the unstoppable force of love Harrison Ritchie-Jones collide with the immovable object of tenderness Geoffrey Watson SC in a no holds barred battle to end ALL fashion weeks
6.30pm. Swanston Hall (Melbourne Town Hall). Free entry, beautiful fashion.
Dress code= crust casual/rowdy formal.
03/09/17
Melbourne Fashion Festival is launched! The Creative Collective exhibition For Curious Eyes Only– featuring Melbourne's most fascinating independent designers is a fuck off exhibition of the highest order and is only on until Sept 8th.
I will also be performing at the closing event on Sept 8 at 6.30pm.
And it's free just like our dreams!
https://mfw.melbourne.vic.gov.au/creative-collection-exhibition/
Here I am with my exhibited work at the opening, in my new One Direction doona cover skirt and Unfunded Excellence top.
27/08/17
Premiering a new outfit at Melbourne Fashion Week- Creative Collection exhibition For Curious Eyes Only. Opening Sept 1st at Swanston Hall, Melbourne
Also performing at this exhibition on Sept 7th at 6pm
https://mfw.melbourne.vic.gov.au/creative-collection-exhibition/
01/08/17
Dance Spoke!
Congratulations to Ellen Davies for a wonderful performance, to myself for a wonderful performance, and thank you to the staff of Moreland City Council and Counihan Gallery, to Leah Landau for organising Dance Speaks through their Choreographing in Two Dimensions programme, and to all who performed in my work Distraction: TIM COLLINS SPEAKS!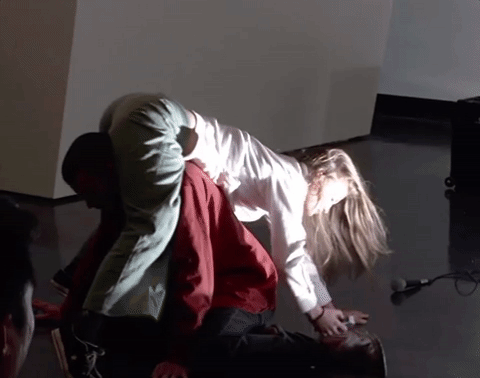 20/07/17
SPEAK DANCE, SPEAK!
Performing new work Distraction: TIM COLLINS SPEAKS! at Dance Speaks event at Counihan Gallery, Brunswick. Ellen Davies will also be performing a new work.
August 1st 2017- free event.
http://www.moreland.vic.gov.au/events-recreation/arts-and-gallery/counihan-gallery-in-brunswick/counihan-gallery-exhibitions/The-Winter-Night-Screen-Project-2017-Choreographing-Two-Dimensions-2017/
01/07/17
UPCOMING PERFORMANCE!
(re)PURPOSE: the MVMNT
Choreographed by Natalie Abbott, Dancehouse Housemate resident.
Dancehouse- July 5-9
http://www.dancehouse.com.au/performance/performancedetails.php?id=263
In (re)PURPOSE: the MVMNT, Abbott appropriates the influential ballet solo, The Dying Swan (1905), to examine our expectations of dance performances, female characters and the limits of the body. She takes a lateral, multi-directional approach that both resists and caters to these expectations.
Abbott's work regularly explores the dynamics of disparate bodies in space through experiences of vulnerability—finding comfort in discomfort as a communal experience. (re)PURPOSE: the MVMNT is a duet performed by two bodies that are representative of stages in a lifecycle—navigating linear ideas of birth, life, middle/void and death. Using borrowed and recontexualised signifiers from dance, the horror genre and pop music, Abbott creates a lo-fi, dramatized spectacle that begins with familiarity before unraveling to reveal the ungroundedness of image-consumerism in the Internet Age.
Performers: Natalie Abbott, Cheryl Cameron, Geoffrey Watson, Rachael Wisby, Yixuan Xu Crystal, Nash Hurley, Miles Brown, Alex Cuffe
20/06/17
Quick factoids about 150.Action:
Because of the protests from animal rights activists, no local abattoirs were willing to sell Dark Mofo a bull for this performance. As a result, one had to be exported live from Victoria.
The most widely criticised aspect of this work's presence at Dark Mofo 2017 was the apparent lack of comment on the work's meaning, and the necessity of having a real bull as part of the performance ritual
This was the 150th performance of this work. Nitsch has been making work in this vein since the 50's- the whole time publishing papers, artist statements, giving talks, interviews etc. There have been numerous books published by himself, art curators, historians, critics, newspapers and participants, in many different languages.
Australian health and safety standards prevented us from using a bull whose digestive system was fully in tact, or from eating the bull at the feast following the performance- both of which are standard (and I thought, integral) for this performance. More animals were therefore killed and used to fill these roles.
Australian OH&S standards also meant that we were asked to put nail sealant on our fingers to prevent bits of offal and viscera getting under our nails. We were also told not to drink the blood being poured into our mouths. Simultaneously we were being asked to carry around a 500kg + wooden structure with a bull, 4 standing people, and one blindfolded crucified people, in a room full of around 1000 people, slippery with bull blood and guts, with little to no preparation.
I drank all the blood that was poured into my mouth, because I thought that I heard protestors outside while I was being crucified. I wanted to let them know that they were contending with a blood-guzzling monster crazed by the moment of performance
On the first day, trying on my white robes, Nitsch pointed, laughed at me and said that I looked like a little girl with my curly blond hair.
15/05/17
I performed an excerpt from Camel for the 2017 Saatchi Art Fair. I'm not proud, the attitude towards receiving and interacting with art, and existing as an artist at an art fair, is disgusting.
Natalie Thomas took a pic of us wiping our bums on the glass

29/04/17
Secretive Dance Team performance. May Day May Day. Nana Biluš Abaffy is brilliant.
Performing May 1st 2017
07/03/17
Virgin Australia Fashion Festival… good for a taste. Got some yummy photos of my designs walking/dancing alongside the S!X collection at RMIT Design Hub- an expansion of the costumes I made for Leah Landau's work at Pieces for Small Spaces 2016. More of these to come.
03/03/17
Stepping into the fashion world tomorrow, choreographing and showing some designs in a runway for S!X at RMIT Design Hub for VAMFF.
07/02/17
DON'T WORK sure did work. This was the premiere outing of Inept and Inert; two highly emotionally charged and supremely ineffective super-heroes attempting to divert an imminent social and ecological apocalypse through the performance of radical acts of self-embetterment.
This performance acted also as the filming of episode 1 of web-series Inept and Inert Coming to Grips. Updates shortly.
10/01/16
Upcoming new work DON'T WORK in Horizon– Closing event of Midsumma Festival
04/02/17- Testing Grounds (1-23 City Rd, Southbank VIC 3006- just behind the Arts Centre)
20/12/16
A performance!
SDT is Staying In, with Nana Biluš Abaffy's Secretive Dance Team.
15/12/16
Melbourne's busiest dance photographer Gregory Lorenzutti did it again and took some beaut photos of my costumes for Leah Landau's Romancer at Lucy Guerin Inc. Pieces for Small Spaces
12/12/16
What have I been doing? I've been making some costumes for Leah Landau's work Romancer at Lucy Guerin Inc. Pieces for Small Spaces. Dec 14-18 2016.